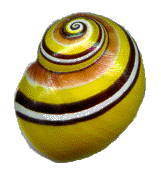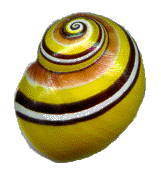 Polymita Taxonomy Page
---
HOMEPAGE - ECOLOGY - DISTRIBUTION - LITERATURE
---
The following taxonomic listing of the genus Polymita follows that described
by Dr. Carlos de la Torre y Huerta in his monograph 1950, "El Género Polymita",
Memorias de la Sociedad Cubana de Historia Natural "Felipe Poey", Vol XX, No1.
This listing is based upon the work of Dr. Carlos de la Torre y Huerta.
The listing is not intended as a taxonomic critique or analysis, it is an annotated
catalog of the described species, subspecies, varieties and forms of the genus Polymita.
Corrections as a result of newer information is most welcome.
Classification of the Polymita
Order STYLOMMATOPHORA
Family HELMINTHOGLYPTIDAE
Genus Polymita
Beck, 1837
The type of the genus: Polymita picta
(Gray, 1847)
Note: Gray selected Helix picta Born 1780, as the type of the genus
(Proceedings of the Zoological Society of London, 1847, p. 171.
Subgenus Oligomita
Torre, 1950
Note: Torre erected this subgenus designating Helix versicolor Born 1780
as the type for the subgenus and based it on differences in shell characters
as well as anatomical characters of versicolor and brocheri from picta.

---
Click on linked species and subspecies to view specimen photos
with annotations indicating description publication,
collection locality, range and holotype depository (if known).

The species, subspecies, varieties and forms
Note: Though not recognized as formal names by the ICZN
the varieties and forms are listed as described by C. de la Torre.


The Genus Polymita


Identification Key to the Polymita picta and subspecies


The P. picta picta group

Polymita picta picta (Born 1780)
Polymita picta picta var. muscata Torre 1950
Polymita picta picta var. multifasciata Torre 1950
Polymita picta picta var. dimidiata Torre 1950
Polymita picta picta var. obscurata Torre 1950


The P. picta iolimbata group

Polymita picta iolimbata Torre 1950
Polymita picta iolimbata var. iofasciata Torre 1950
Polymita picta iolimbata var. iosaturata Torre 1950
Polymita picta iolimbata var. iodimidiata Torre 1950

The P. picta fuscolimbata group

Polymita picta fuscolimbata Torre 1950
Polymita picta fuscolimbata var. elevata Torre 1950
---- Minor varieties of fuscolimbata as follows:
Polymita picta fuscolimbata var. fuscofasciata Torre 1950
Polymita picta fuscolimbata var. pseudo-nigrolimbata Torre 1950
Polymita picta fuscolimbata var. pseudo-muscata Torre 1950
Polymita picta fuscolimbata var. pseudo-roseolimbata Torre 1950

The P. picta nigrolimbata group

Polymita picta nigrolimbata Torre 1950
Polymita picta nigrolimbata var. fulminata Torre 1950
Polymita picta nigrolimbata var. nigrofasciata Torre 1950

The P. picta roseolimbata group

Polymita picta roseolimbata Torre 1950
Polymita picta roseolimbata forma minor Torre 1950
Polymita picta roseolimbata var. virgata Torre 1950
Polymita picta roseolimbata var. albolimbata Torre 1950

The P. venusta group

Polymita venusta (Gmelin 1792)
Polymita venusta var. rubiginosa Torre 1950
Polymita venusta var. olivacea Torre 1950
Polymita venusta var. testudinea Torre 1950

The P. sulphurosa group

<!Polymita sulphurosa sulphurosa Morelet 1849
Polymita sulphurosa flammulata Torre 1950
Polymita sulphurosa flammulata var albida Torre 1950
Polymita sulphurosa flammulata var. violacea Torre 1950
Polymita sulphurosa flammulata var. viridis Torre 1950
Polymita sulphurosa flammulata var. iridans Torre 1950
Polymita sulphurosa flammulata var. rubra Torre 1950

The P. muscarum group

Polymita muscarum muscarum (Lea 1834)
Polymita muscarum muscarum var. festiva Torre 1950
Polymita muscarum muscarum var. tanamensis Torre 1950
Polymita muscarum muscarum var. subbrocheri Torre 1950
Polymita muscarum splendida Torre 1950

The P. (Oligomita) versicolor group

Polymita (Oligomita) versicolor (Born 1780)
Polymita (Oligomita) versicolor var. minor Torre 1950
Polymita (Oligomita) versicolor var. reticulata Torre 1950
Polymita (Oligomita) versicolor var. reticulella Torre 1950

The P. (Oligomita) brocheri group

Polymita (Oligomita) brocheri brocheri ("Gutiérrez" Pfeiffer 1864)
Polymita (Oligomita) brocheri cuestana Torre 1950
Polymita (Oligomita) brocheri ovandoi Torre 1950
---
HOMEPAGE - ECOLOGY - DISTRIBUTION - LITERATURE
---